Shipping service explaination
Do you know we have two warehouses ? Yes, we can ship from both China and Spain. 
World-widely shipping from China warehouse
Generally, we would say we ship to all over the world from our china warehouse. But at same time we also know slingshot (and slingshot rifle) is classified vaguely as weapon in some countries. We could also say that it is a toy, a decoration, a target game equipment. It is fully depending on how and the places you shoot it.
Please check your  local law and experience to know if it is allowed for you to import slingshot and then make the decision to purchase slingshot. Custom confiscation is not subject to any refund according to our refund policy.
In order to minimize the possibility of custom inspection or blockage, from our side we will declare it as the most convenient item and value. 
For rest products, as far as we know, there is no any restriction for importation.
We will update it here for those known product which is seriously prohibited to import into some specific countries
Inside EU shipping from Spain warehouse
From our Spain warehouse, we only ship inside European union. There is no any shipping restriction and no concern about any additional custom duty or VAT.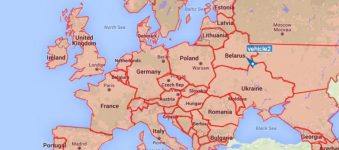 Shipping handling and preparation
For china warehouse
Most of product like tubes, bands, pouches and other accessories, we will ship it same day of next day (depending on the time difference).
Customized band sets: we will dispatch it same day or next day (no later than 3 days) depending on the quantity you ordered.
Customized cutting template: it takes 4 to 5 days for us to complete the fabrication and then ship it.
Customized slingshot: based on agreement, in any case, as earlier as possible.
About slingshot: We will stock enough for those slingshots we foresee to be hot. We may not have enough stock for some models sometimes, because we are planning to stock as many styles as possible for your selection. As we know, there are numerous variations of style, shape, size and material can be found on Chinese slingshot market.  In this case, we will stock it immediately and then contact you by email to ask if you still want it. In most of cases, 2 or 3 days is enough for Chinaware house to restock it.
For Spain ware house
Generally, we stock and then sell the non-customized product at the Spanish store and fulfill the shipment at same or next day.
The delivery time at checkout step
is estimated based on our experience and express company´s report.

It may not exactly match the actual situation and we will adjust it frequently.
Normally we provide 2 or 3 shipping options with different efficiency and cost for each country. You can make your own choice accordingly.
The shipping is charged by total weight per order (separately from product cost). We summarize the net cart weight at checkout step and charge our customer just a little excessive (for cost of packing material, package weight) than our payment to the express company.
This is more reasonable for selling internationally to different countries rather than charging/counting it into each unit.
Most express companies have a heavier base charge per package (for example, for E-Packet to UK it is around 2£ for 1st gram and 0.7 cent per additional gram; for DHL Spain it charges around 13€ for first kilogram). 
We suggest our customers to buy more weight to balance the cost of base shipping charge.
For wholesale buyer, we may fulfill your order with a different express company to minimize or avoid duty and/or VAT issue based on the total weight, the VAT regulation of your country.
We will upload the tracking number to the order management system when we have the tracking number. You will receive notification by email and be able to check it at your account page at below path:
My Account>Orders>Order number>Track