Cutting butterfly band set is not a headache anymore
As also a flat band shooter, we heard about many shooters like to shoot butterfly style, which has the maximum draw length and can accelerate the ammo longer time to achive higher velocity.
Tapered bands is another method to get higher velocity. And we mostly like to have the butterfly bands in taper also to get light draw weight. But it is difficult to find and cutting template to cut length more than 300mm.
Today we bring the solution:Only the 140mm center is Isosceles Trapezoid shape and the two ends are 70mm rectangle shape.
With this design by slingshooting.com, we can wrap its two ends to cut the length for butterfly style! Below pictures tell you the detail!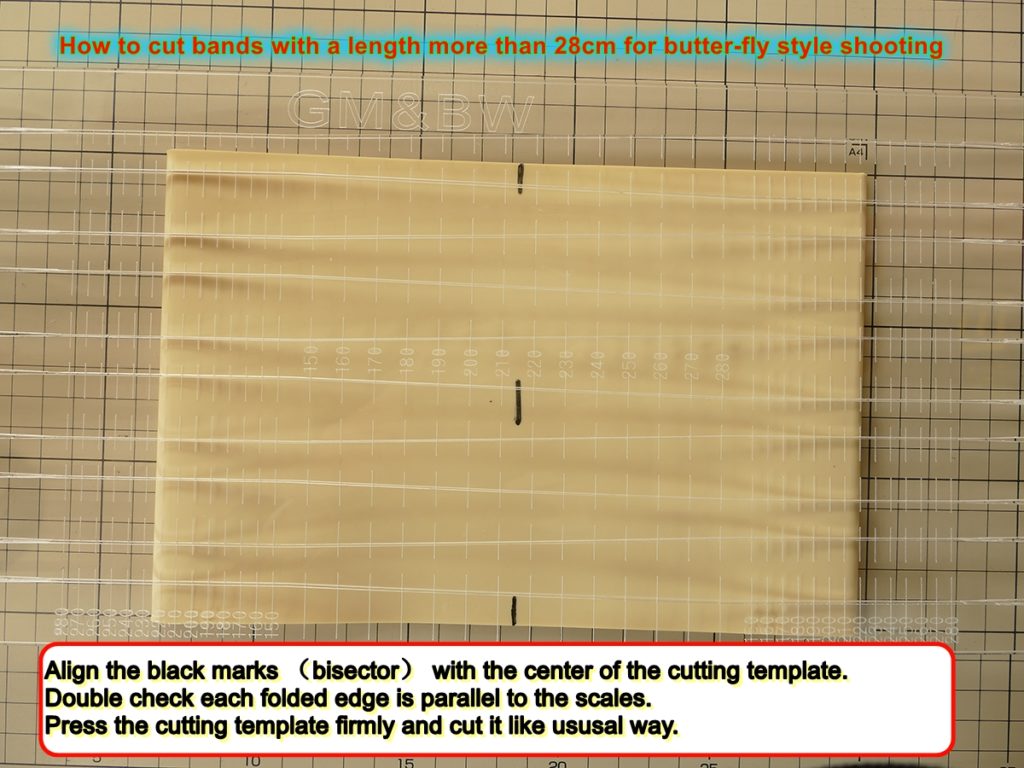 Align the black marks (bisector) to the center of the cutting template. Ensure two folded ends are parallel to the scales.
Press and hold the cutting template firmly and cut it as traditional way.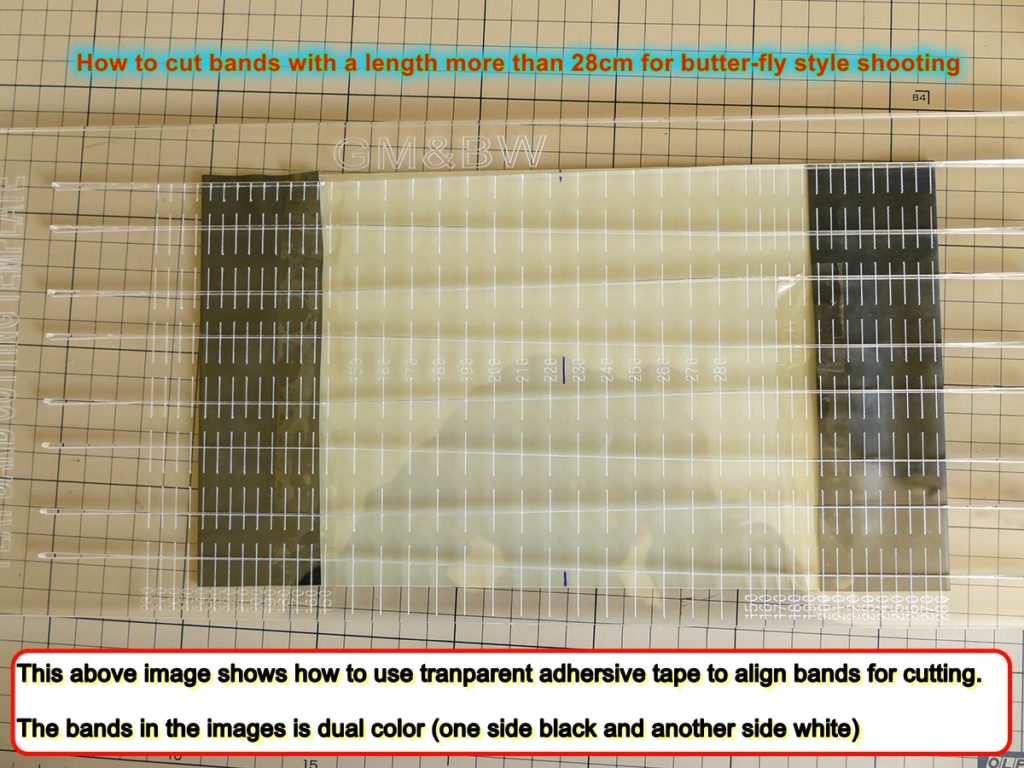 Above image shows another way to wrap two ends and stick them with adhersive tape for cutting.
Universal Acrylic Ruler for cutting bands with any taper
We have introduced the universal taper cutting ruler. You can use it cut any a taper with maximum length of 28cm, maximum width of 40mm. just follow below steps.
Lets use taper of 20 to 12 at 180mm as the example.
Cut the bands to a piece with height of 180mm

Trim the edge from one side to have trapeziform waist. For example if your taper is 20 to 12, you have to cut away a triangle with bottom of 4mm=【(20-12)/2】

turn around the ruler, keep the cutting channel for cutter´s blade above the bands. align the ruler to below position:

the blade channel to the edge of the bands is around 12mm (read it from one horizontal scale at 0cm place or 18cm place)

the blade channel to the edge of the bands is around 20mm (read it from one horizontal scale at 18cm place or 0cm place)

Cut the bands pieces away to get first piece of taper

turn around the ruler to cut another taper band piece
It is strong recommended to cut two layers of bands at one time. Thus you will get a set of bands with minimum discrepancy.